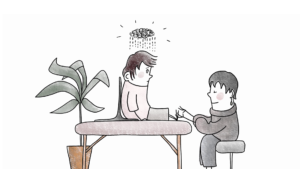 In my last article we talked about the difference between what is important – and requires time and calmness – and what we perceive as urgent – and leads us to run without taking time to reflect.

One way to reflect about ourselves is to dedicate some time to notice how we "function" in our daily life.
Am I calm? and if not, what is disturbing me? Can I let go? and if not, what is preventing me to do so?
In my work, but also in my private life, I constantly observe that when a reaction is difficult to change and we find ourselves stuck in the same kind of situations that are repeating with different people in different situation, we are dealing with an automatic pattern.
As humans, we tend to produce automatic pattern of which we are not aware. We then react always in the same kind of way, the one we learned in the past, without realizing that sometimes, it is not adequate in the present moment.
This is reflected in the way we walk and stand, the way we move and take actions. And all this influences the skin and shape of our feet.
If you would like to become more aware of your pattern and be able to become more calm, a foot analyses can be for you.
During the foot analyses, the signs in your feet, like hard and soft skin, texture and lines, shape and colors, give indications about how the automatic pattern is produced on the physical level, but also on the emotional and rational ones.
The foot analyses is often the beginning of a bodywork process, which aim is to accompany and support you in the change of a pattern. But it can also be a moment of reflection to increase your awareness and become less automatic in the way your respond to life's situations.
I offer free foot analyses once at month. Contact me if you have more questions.