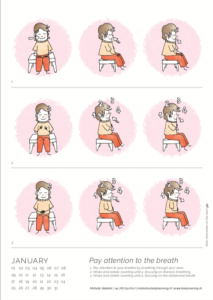 My my modest contribution to support you to dedicate time to yourself is a 12 months paper calendar.
Each month illustrates 3 breathing exercises to practice every day. Its aim are to support you to take 5-15 minutes to pay attention to yourself, your wellbeing, or just to take a break from work.
How does it work?
The calendar is in French or in English. You can order the English version here.
The basic price of fr. 18.- covers the printing and shipping costs for Switzerland.
After you receive it, you may decide to adjust your contribution upward. The evaluation of the price may includes your desire to better listen to yourself, a sense of commitment and/or the wish to support my activities.
Send me your address and transfer the money here: CH62 0900 0000 6575 5902 3.
[contact-form-7 404 "Not Found"]