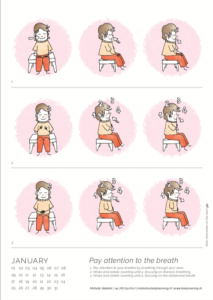 To what purpose would you like to dedicate more time next year? Which aspects of your life do you wish to nourish by taking time every day?
Dedicate Time is the practice I wish to reinforce during 2022. I associate it with taking time to reconnect within me in order to then connect with what is around me: people I love, nature, work projects… My intention for the new year is to continue to dedicate time to connections 🙂
Today, our way to consider our history, our way to move around the world, even our way to think is very much determinate by separations. We perceive easily ourselves as separated – and of course different – from the others. Not only from other people but also from other natural beings.   To remind ourself that we are "just" living creatures among many others, not better or worse, requires for our minds some efforts.
We adore to believe that we are special and different. However when this belief is pushed too far, it becomes a recipe for loneliness, disconnection and lost of meaning.
I suggest you take a moment to reflect about what kind of practice would you wish to enhance in 2022: more family time? Less activities in order to have less stress? Less consumption and less stuff? Starting a new activity or even new education? All of these options refer in a way or another, to the necessity to run less in the "hamster wheel". To be less pushed by a tempo given by external factors.
This is quite difficult to do …. And probably it offers us a demanding challenge 🙂
My main focus being bodyawareness, body perceptions and breathing, my modest contribution to support you dedicating time to yourself is a 12 months paper calendar 🙂
Each month illustrates 3 breathing exercises to practice every day. Its aims are to support you to take 5-15 minutes to pay attention to yourself, your wellbeing, or just to take a break from work.
How does it work?
The calendar is in French or in English.
The basic price of fr. 18.- covers the printing and shipping costs for Switzerland.
After you receive it, you may decide to adjust your contribution upward. The evaluation of the price may includes your desire to better listen to yourself, a sense of commitment and/or the wish to support my activities.
Contact me for receiving the calendar or if you have questions. I will be happy to answer you.
Image taken from the calendar