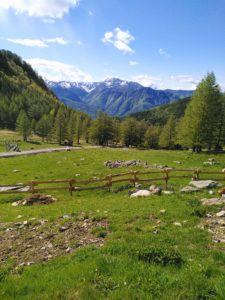 The 16th of July, from 11h to 18h.
In the beautiful energy of Alpe Arami, an alpine pasture near to Bellinzona, we will focus on our breath, our body and the contact with Nature.
During this day you will:
explore how respiration works ;
experience several breathing practices enhancing your lungs capacity and releasing tensions in the muscles involved in the breathing movements;
experience the influences of your breathe on your physical, energetic and emotional state;
reflect to how your past fears are stored in the body and may affect your respiration;
take time to pay attention to you personal state – so to increase your bodyawareness – and to share with the other participants.
Bring something to seat outside, to write, to warm you up, to drink.
Book via my contact form or via phone 078 779 16 07. Cost fr. 150.-. Lunch in the Baita Arami at 14h, snacks and transport from Bellinzona rail station included.
Contact directly the Baita Arami if you wish to sleep on the alp.
8-10 participants maximum.