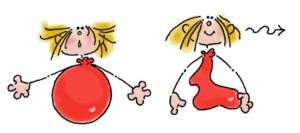 In our two previous articles we focused first on the calming breathing practice and then on exhaling. Today, the last article of the respiration series, inspired by James Nestor (∆) will focus on the activating quick breathing.  
Let's start with the benefits of this kind of respiration: the fast breathing is stimulating the sympathetic nervous system. It increases circulation inside us and mimic … stress!
Why is this good for us? Because by stimulating on purpose the stress response, we train our ability to go out of the stressed state. It trains our nervous system to be more resilient and more able to go back to a calm state.
Of course, like everything it only works when we practice regularly.
I would like to present 2 stimulating exercises: the focus is on the exhale that is done very fast and strongly which is provoking a very fast inhaling. As it is a stimulating practice, it can be recommended to practice before 17h so to not interfere with sleep. You could also consider it as a warm up before exercising: in this case the energy stimulating by the quick breathing will be invested in the physical activity.
Try to breath through your nose, when this is possible (*)
Take note that hyperventilation could provoke dizziness, especially when the practicing person doesn't have a lot of experience with it.
1) Breath of fire
I borrow this kind of breathing from the kundalini yoga. You can practice sitting or lying down.
Contract your diaphragm area, exhaling quickly. This provokes a quick inhalation. When you keep breathing in this way, the result is a fast breathing. Focus on the contraction – on the exhale. Do 3 rounds of breath of fire for 30/40 seconds intercalated with 3 rounds of deep slow breathing for 30/40 seconds.
Take a moment at the end of the exercise to pay attention to your body's sensations and the effects of this practice.
2) Inner fire – Tummo in Tibetan (°)
Lie down and start by taking 30 deep but very fast breaths. The inhalation should look like a wave, filling up in the stomach and moving up through the lungs. The exhale follows the same movement, first emptying the diaphragm area and then the chest.
At the 30iest breath exhale keeping about a quarter of the air in the lungs. Hold that breath for as long as possible. When you can not hold anymore, take one big inhale and hold it for another 15 seconds.
Take a moment to pay attention to your body's sensations and the effects of this practice.
You can repeat it 3 times.
Working with hyperventilation requires your full attention. Don't push it, don't overdo-it and don't hesitate to ask me if you are unsure about the exercises.
Enjoy this practice! And as always, I will happy to support you !
Contact me also if you are interested in receiving more information about this topic.
(∆) Breath by James Nestor
(*) "The importance of nose breathing is that sinuses release a huge boost of nitric oxide, a molecule that plays an essential role in increasing circulation and delivering oxygen into cells…. Nasal breathing alone can boost nitric oxide sixfold, which is one of the reasons we can absorb about 18% more oxygen than by just breathing through the mouth". p. 50, Breath by James Nestor.
(°) This practice stimulate the vagus nerve "breathing really fast and heavy on purpose flip the vagus response the other way, shoving us into a stressed state. It teaches us to consciously access the automatic nervous system and control it to turn on heavy stress specifically, so that we can turn it off and spend the rest of our days and nights relaxing and restoring, feeding and breeding". p. 150. The exercise description that follows is taken by pages 226-227.